For Sale Domain Names only $2,500 each
HOME | ADVENTURES | US COAST GUARD | RAVINGS | MAGIC | PICTURES | MORE
DEAN ROWE

April 13, 1935 - April 19, 2016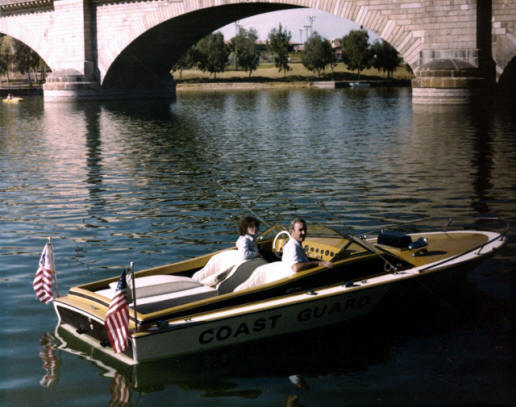 USCG Patrol Vicki Rowe & Dean Rowe 1980
Lake Havasu City lost one of its early settlers when Dean Rowe died April 19, 2016, a few days following his 81st birthday.
Dean was the first teacher hired by Lake Havasu High School in 1969 and taught English and Reading there for nearly thirty years.
His former students will recall him enlivening classes by telling stories and doing magic tricks while wearing a bowler hat.
He'd gain the teens' confidence by getting them laughing, telling self-deprecating stories about his adolescent escapades with his friend "Fo."
He was faculty advisor for the school's magic club, and appeared in a play with the local theater guild called, appropriately, "The Man in the Bowler Hat."
He played a Simon Legree-type character & made the mystery even more mysterious, as he said, by inadvertently skipping a page and a half of dialogue on opening night.
Dean was born in Racine, Wisconsin to Thoburn "Toby" Rowe and Anne Dean Rowe on April 13, 1935.
His dad was also a teacher who, along with his mother, were counselors at St. John's Military Academy Summer Camp
in Delafield, WI, where Dean developed his lifelong patriotism and admiration for the military.
He had many interests as a boy and an insatiable curiosity about how things worked.
He took apart his parents' parquet floor to see how it was put together, and dis-assembled light switches, the telephone, and clocks.
He built a crystal set radio, and took photos that he developed. Magic was a major interest, and he performed under the stage name Orlando in his teens.
During one of his early performances while flame-throwing, he unfortunately set fire to the theatre curtain.
It's easy to see where his great love of slapstick came from.
Some of his favorite comedians were Laurel & Hardy, and Inspector Clouseau.
Dean was known for his sense of humor, pranks, & clever, sometimes wince-worthy, puns.
Dean graduated from Washington Park High School in Racine in 1953, joined the Navy, married Patricia Groves in 1955,
and set off for Hawaii where he worked as an electrician on submarines at Pearl Harbor. Pat & Dean's son Bill was born there.
They moved stateside after a few years, and settled in Phoenix, Arizona where their daughter Vicki was born.
Dean worked for Mountain States Telephone Co. and invented the "operator intercept" which was very beneficial to the company.
Dean attended Phoenix College while working, and then transferred to ASU where he earned a BA and MA in Education with high distinction.
He was a lifelong member of the National Council of Teachers of English and the Red, Red Rose, among others.
The family lived several years in Tempe where Dean served as a cub scout leader for Den 270, Boy Scouts of America.
His son Bill was one of the cubs. In June 1968, he took his family on a fun, week-long adventure on the Mississippi River in his 18 foot cabin cruiser.
After moving to Havasu, he was a leader of the Sea Scouts at the high school.
Dean was an avid boater all his life and joined the Coast Guard Auxiliary in 1968 where he served for thirty-nine years.
He was extremely active and held every position including Commodore for Flotilla 92 in Havasu, doing boat inspections and teaching boating safety.
He later joined the Coast Guard Reserve in 1973, and became an EMT, helping inexperienced boaters on
the lake who ran into trouble, while partying in the hot desert sun in high temperatures. He worked many weekends and most holidays.
He worked on ships' electrical systems during summer sessions in California. He retired from the C.G. Reserve in 1995.
He was also a pilot and taught Aviation Ground School as well as Boating Safety & Operations at Mohave Community College.
Dean was widowed in 1977. As a memorial to his wife Pat, who was also active in the Coast Guard Auxiliary
and led the first all-women patrol on the lake, he had a replica of the Wind Point Lighthouse in Racine, Wisconsin built at Site Six on Lake Havasu.

Dean had many other varied interests including photography, astronomy, playing a theatre organ, and taking whale-watching trips in Seattle, San Diego, and Mexico.
In his youth, he worked as a stagehand for famous magician, Harry Blackstone, Jr., and later in life volunteered during summers as a mentor to young magicians in Colon, Michigan.
"Day is done, Gone the sun, From the lake, From the hill, From the sky. All is well, Safely rest, God is nigh."

---
Favorite Links:
Patricia Ann Rowe Memorial
Domain Names For Sale
Lake Havasu Lighthouse Club